Athletics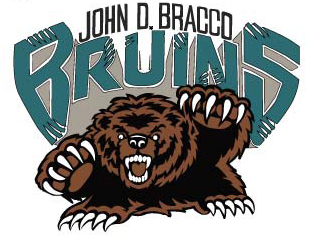 Athletics
Teams provide opportunities for students to develop their expertise in a variety of areas.
Note: Students must maintain good behaviour, attendance and relationships with the staff and students in order to be considered for these privileges. The school reserves the right to allow or not allow students to attend or participate in school-sponsored activities or other occasions where students are representing John D. Bracco School at any time.
If families are interested in seeing financial support for sport registrations, please visit www.kidsportcanada.ca. All kids can Play!
---
Badminton
Teams: Boys Singles, Girls Singles, Boys Doubles, Girls Doubles, Mixed Doubles
Season: March to April
---
Basketball
Teams: Junior Boys, Junior Girls, Senior Boys, Senior Girls
Season: December to March
---
Cheer
Teams: Division 1 Coed, Division 2 Coed
Season: September to March
---
Cross Country Running
Track Meets: Cross Country Cities, Running Room Games, Spring Run Club
Season: September to October, February to March, March to May
---
Football (Flag)
Teams: Boys, Girls
Season: April to June
---
Rugby (Flag)
Teams: Boys, Girls
Season: April to June
---
Slo Pitch
Teams: Coed
Season: April to June
---
Soccer
Teams: Boys, Girls
Season: September to October
---
Track & Field
Track Meets: School Meet, Zone Meet, City Meet
Season: May
---
Volleyball
Teams: Junior Boys, Junior Girls, Senior Boys, Senior Girls
Season: October to December
---
Wrestling
Teams: Junior Boys, Junior Girls, Senior Boys, Senior Girls
Season: October to March
---